In two weeks, Peter Jackson will release his highly anticipated prequel to his "The Lord of the Rings" series with his live-action re-telling of J.R.R. Tolkien's classic fantasy tale, The Hobbit. The Hobbit was first published in 1937, as a children's story. One ten-year-old (the targeted age for the novel) reviewed it favorably, writing "the book…does not need any illustrations it is good and should appeal to all children between 5 and 9″: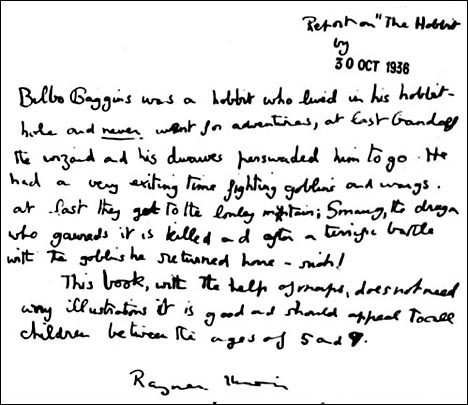 Even before it was published, in 1936, Tolkien completed one of his first illustrations for the book, a lovingly detailed dustjacket that would, ultimately, stay unused due to its over-abundance of colors.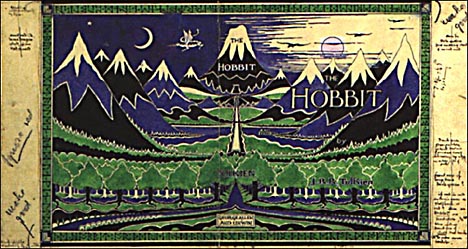 Although a publishing contract was executed in 1936, there was still considerable work done on the book before it was finally published. In particular, Tolkien tried his hand at illiustrations and designed a marvellous dustjacket. Unfortunately, his first design had too many colors and was revised.

An unsuccessful design by Foyles booksellers, eventually discontinued
adaptation of 'The Hobbit'
never-used illustrations for 'The Hobbit'
Eventually, when Tolkien began discussions for the publication of the first American edition of his work, Houghton-Mifflin suggested that the book include color illustrations. While they wanted a professional, others suggested that Tolkien himself take on the task. Though he was skeptical of his skill, he eventually painted pictures of Bilbo, Rivendell, Hobbiton, Smaug the Dragon, and other settings and characters. Many of these drawings, both used and unused, are collected in The Art of the Hobbit.
But Tolkien's classic has been drawn or re-imagined many, many times since its publication. In 1966, a 12-minute film composed of comic stills would be the first adaptation. Eleven years later, in 1977, another animated adaptation, this time with music, would debut on US television.
Bilbo, in the 1977 adaptation of 'The Hobbit'
Even more surprising than the idea that a Hobbit musical exists, is the revelation that Maurice Sendak was originally commissioned to produce illustrations for a never-completed 30th anniversary edition of the book. But when the publisher mislabeled Sendak's pictures of wood-elves as Hobbits, Tolkien took offense at what he perceived as Sendak's lack of research into his story and rejected the pictures. The two were scheduled to meet and discuss the project, but shortly before, Sendak suffered a major heart attack and the deal fell through.
One of Maurice Sendak's never-used illustrations for 'The Hobbit'
Another artist better known for her own work, Tove Jansson of the Moomin series, actually did complete a series of illustrations for The Hobbit's release in her native Sweden. Just as Sendak's pictures give us a glimpse of Tolkien's world through another artists eyes, so too do Jansson's drawings which mix equal parts adorable and eerie to show us the world of the novel.
A Tove Jansson drawing for 'The Hobbit'
Soon, of course, we'll have Peter Jackson's take on the story — likely a high-thrills 3D romp complete with terrifying dragons, wise elves, and of course, hobbits.